Organizing an engagement on a boat requires good planning and organization. We have prepared a step-by-step guide to celebrate your special day perfectly. Here are the steps to smoothly carry out your boat engagement organization:
Date and Venue Selection:

Date Determination: Determine the date of your event. By preferring a period when the weather is nice, you can have a more enjoyable time on the boat.
Venue Selection: Boat selection lays the foundation of your engagement ceremony. bematur.com offers different boat options and helps you determine the most suitable venue for you.

Guest List and Invitations:

Guest List: Create a guest list and determine the number of people you will host on the boat.
Invitations: Prepare invitations suitable for your theme and invite your guests to this special day.

Decoration and Music:

Decoration: A romantic and aesthetic decoration makes your engagement ceremony unforgettable. You can use flowers, lighting, and accessories suitable for your theme in your decoration.
Music: Music selection sets the atmosphere of your event. You can have fun moments with your guests by getting live music or DJ service.

Photography and Video Shooting:

Photographer and Videographer Selection: Work with a professional photographer and videographer to immortalize this special day of yours.
Shooting Schedule: Plan when the photo and video shoots will be performed.

Catering and Menu Selection:

Catering Service: Offer delicious meals and drinks to your guests with a quality catering service.
Menu Selection: Consider the palate of your guests and dietary requirements when choosing the menu.

Event Day Coordination:

Flow of the Day: Create a timetable to ensure everything progresses as planned on the event day.
Responsibilities: Determine duties and responsibilities to ensure everything progresses smoothly.
You can make this special day unforgettable by working with the experienced team of bematur.com to carry out your boat engagement organization smoothly.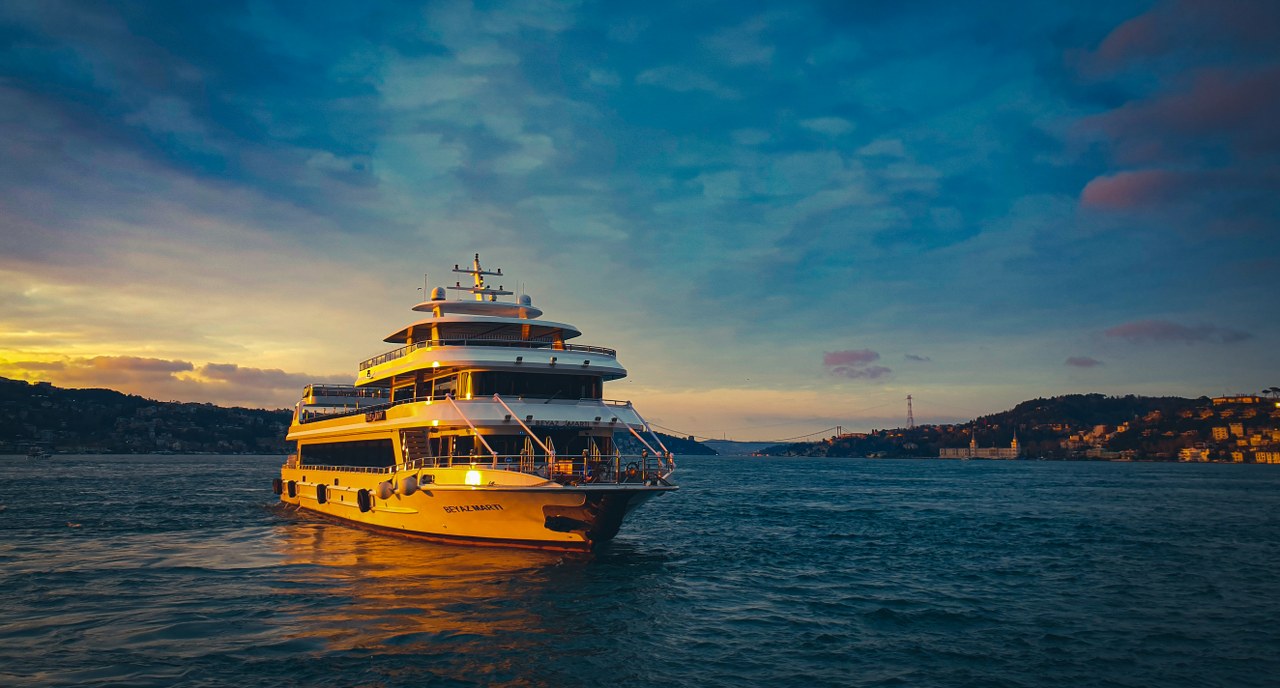 Boat Engagement: Turn Your Dream Event into Reality
An engagement is a perfect opportunity to celebrate the most beautiful moments of love and share your decision to continue your life together with your loved ones. Can you think of a more romantic setting to make this special day unforgettable? A boat engagement event promises a unique experience and unforgettable memories.
The Romantic Atmosphere of Boat Engagement
The engagement ceremony held on the boat has a romance-filled atmosphere. In a setting accompanied by the blue tones of the sky and the sea, you can declare your love in the most beautiful way. The natural beauties around you and the gentle sound of the waves make this special day of yours even more magical.
Venue Selection
Choosing the ideal boat and venue is the key to the perfect engagement ceremony. bematur.com offers many different boat and venue options for you. Whether it's a luxurious yacht or an intimate fishing boat, the choice is yours. When choosing a venue, you should consider factors such as the number of guests and the concept of the event.
Guest List and Invitations
The boat engagement event is usually held with a more intimate and limited number of guests. Don't forget to include family and close friends when creating your guest list. By preparing impressive and theme-compatible invitations, you can invite your guests to this special day in a stylish way.
Boat Engagement Expenses: Manage Your Budget Correctly
The boat engagement event is an organization that requires budget planning. Here are a few tips to help you manage your budget correctly:
Budget Planning
By planning your event expenses in detail, you can avoid surprise costs. bematur.com offers package options suitable for different budgets, helping you find the most suitable solution.
Cost-Effective Solutions
To lower the cost, you can prepare your own decoration or prefer more economical venue and catering options.
Package Options
bematur.com offers various package options suitable for different budgets. By choosing the package that meets your needs, you can celebrate this special day economically.
Contact bematur.com for your dream boat engagement event and collect unforgettable memories!
Boat Engagement Organization: A Unique Experience
Organizing a boat engagement allows you to celebrate your love on the water, in the lap of nature. Here are some important headings and details to experience this unique event:
Entertainment Program Preparation:
Live Music and DJ: You can elevate the entertainment to the climax by getting live music groups or DJ service for your engagement.
Dance Performances: Captivating dance performances prepared with professional dancers can add color to your event.
Technical and Logistic Preparations:
Sound and Light Systems: By setting up a quality sound and light system on the boat, you can add a professional atmosphere to your event.
Transportation and Parking: Plan transportation and parking facilities in advance for your guests, so everyone can comfortably attend the event.
Security and Emergency Planning:
Security Personnel: Take security precautions on the boat and be prepared for any adverse situations.
Emergency Plan: Prepare an emergency plan and ensure you have the necessary safety equipment.
Coordination of Special Moments:
Engagement Ceremony: Plan this special moment where engagement rings will be exchanged and make it unforgettable for your guests.
Celebration Program: Detail your celebration program after the engagement ceremony and arrange fun activities.
Souvenir and Gift Organization:
Photo Corner: Create a special photo corner where you can take souvenir photos with your guests.
Gift and Souvenir Distribution: Prepare small gifts and souvenirs to show your gratitude to your loved ones.
Feedback and Thank You Notes:
Feedback Collection: Collect feedback to learn how your event went and to get suggestions for future organizations.
Thank You Notes: Send personalized thank you notes to everyone who showed participation.
Boat engagement organization requires detailed planning and coordination. By working with bematur.com, you can make this special day of yours smooth and unforgettable.