Bematur stands out as a company offering wedding on the boat, yacht tours, and boat graduation ceremonies in the Bosphorus of Istanbul. Aiming to offer unforgettable experiences against the unique backdrop of Istanbul, Bematur always prioritizes quality service and customer satisfaction. A boat wedding provides a romantic atmosphere and a unique experience, while yacht tours offer the opportunity to explore the beauties of Istanbul, and boat graduations allow students to celebrate their special day.
Wedding on the Boat: Where Romance and Uniqueness Meet
A boat wedding is a dream for many couples, taking place in the middle of the sea, accompanied by the unique view of the Bosphorus in Istanbul. So, what should be considered to turn this dream into reality, and what steps should be taken?
Why a Boat Wedding? A boat wedding is not just a ceremony but also an unforgettable experience. Getting married in the middle of the sea, surrounded by Istanbul's historical and natural beauties, makes the most special moment of your life even more special.
Advantages of a Boat Wedding? The opportunity to get married against a unique backdrop. A romantic and calm atmosphere. Personalized organization with various menu and boat options.
What Makes a Boat Wedding with Bematur Different? Bematur offers not just a service but also a quality and unforgettable experience. Their professional team takes care of every detail of your wedding, allowing you and your guests to enjoy this special day.
Conclusion
A boat wedding in the Bosphorus of Istanbul offers both a romantic and unforgettable experience. To experience this privileged event, you can contact Bematur to realize the wedding of your dreams.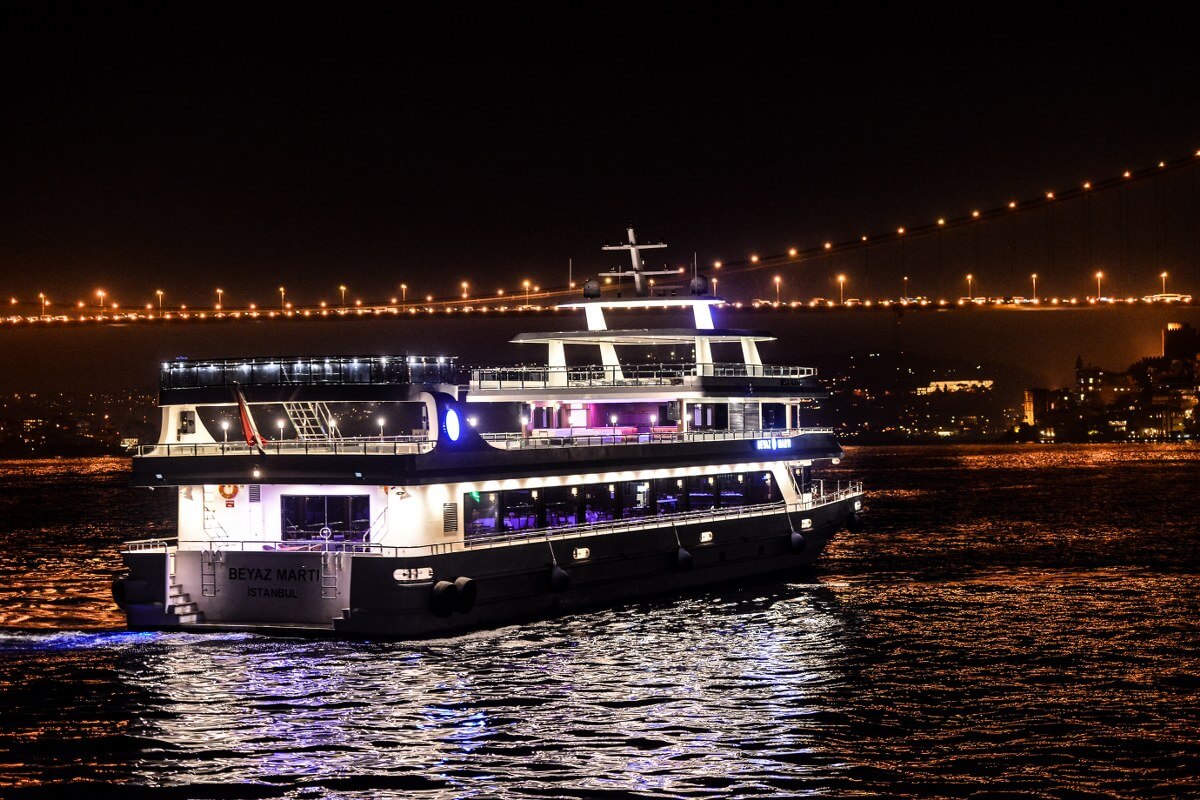 Boat Wedding in the Bosphorus of Istanbul: Privileges
Unique View: The Bosphorus of Istanbul houses historical landmarks like the peninsula, Maiden's Tower, Bosphorus bridges, and many iconic structures. A boat wedding, when held against this unique backdrop, provides a magnificent setting for your photos and memories.
Romantic Atmosphere: A wedding in the middle of the sea, accompanied by wave sounds and under the stars, is the epitome of romance. The cool breeze of the Bosphorus and the salty smell of the sea make this special day even more unforgettable.
Originality and Distinction: For couples tired of standard wedding venues, a boat wedding is an original and different alternative. This ensures that your wedding becomes an unforgettable memory for everyone attending.
Personalized Organization: Boat weddings are shaped according to the couples' wishes. Menu options, music playlists, decorations, and other details are entirely personalized.
Full Package Service: Boat wedding organizations are usually offered as a full package. This allows couples to handle the entire organization from one place without having to deal with every detail individually.
Unforgettable Memories: A wedding held in the Bosphorus of Istanbul remains an unforgettable memory in both your and your guests' lives. Celebrating this special day in one of the world's most beautiful sceneries is a unique experience for everyone.
Easy Transportation: Boats close to the center of Istanbul offer a significant transportation advantage. Your guests can celebrate your wedding in a venue easily accessible and away from the city's hustle and bustle.
Natural Decoration: The natural beauties of the Bosphorus provide natural decoration to your wedding without the need for additional decor.
In conclusion, wedding on the boat in the Bosphorus of Istanbul offers both a romantic and unforgettable experience. This privileged experience makes the most special day of your life unique.